Choosing an Orangery or Conservatory?
It can be a difficult decision whether to opt for an orangery or conservatory. An orangery tends to include more brick or aluminium pillars for a heightened sense of privacy and warmth. With a deluxe feel, orangeries are solid structures that often mirror the existing style of your home, providing an additional room that can be utilised all year long.
An orangery is a bespoke installation, unique to you and your home and we want to help you design the living space you've always wanted. If you have decided an orangery is your ideal choice, you will then need to decide between a traditional or contemporary orangery.
Traditional Orangery or Contemporary Orangery?
We understand that every Hazlemere customer has a different vision and varying budget expectations for their orangery, which is why we will design your new orangery to suit your specific requirements.
Once we've chatted over your style preferences we will be able to begin designing your dream orangery, whether you want a modern or more traditional look and feel. The design team will be able to guide you through the process to ensure you understand the options available and are in a great position to make fully informed decisions.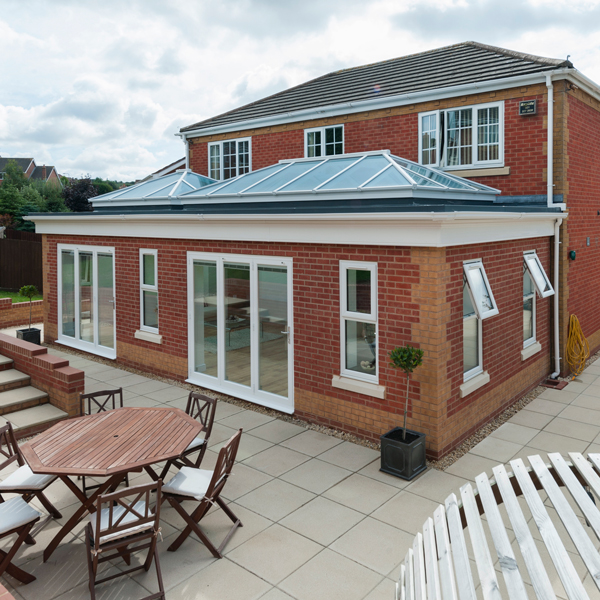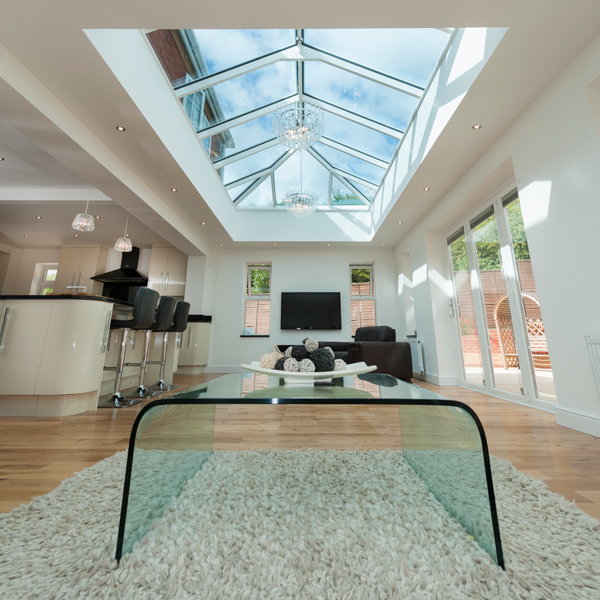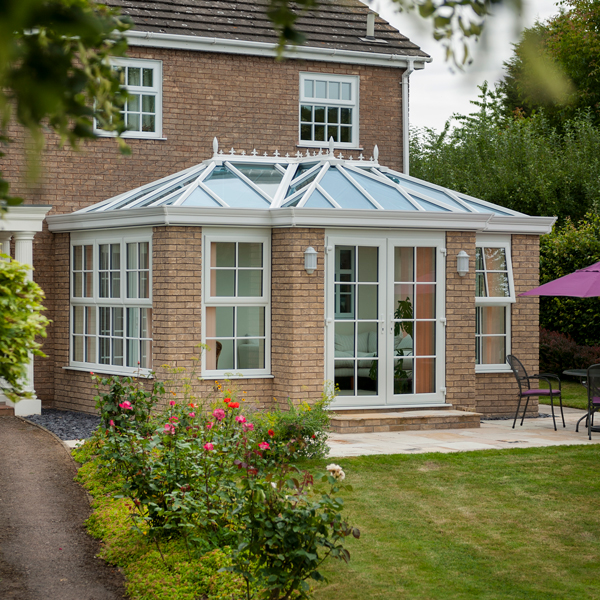 Ensure your orangery is temperature-controlled without compromising on style
Consider choosing a modern glass roof for your orangery. Our modern roof glass combines stunning aesthetics with intelligent glazing that can efficiently regulate the temperature. And use roof vents to cool the room in the warmer months. By ensuring the temperature stays constant and steady inside, you can make full use of your orangery, regardless of the time of year.
The number one question
It is important to determine whether your orangery will mimic your home's style or seek to highlight your garden area instead. Once you have decided on this (with our guidance), we can create the perfect design with your wishes in mind.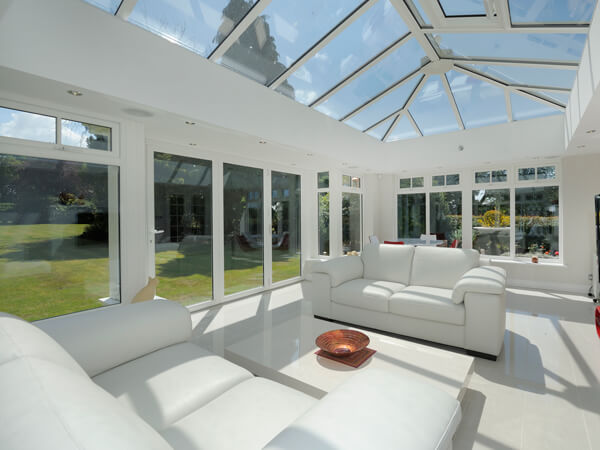 NEED MORE INSPIRATION? REQUEST A BROCHURE
Simply hover and click the brochures you would like to browse, complete the accompanying form and choose to receive as a download or in the post.
Step 1 - Please select the brochure(s) you would like:
Orangery features
An orangery is a bespoke creation that can cater for the whole household's needs. Whether you are focused on creating a more spacious kitchen area, an extra living room or a relaxing space, you can be confident in the quality of our final product.
Click the hotspots for more information on the main features that make a classic Hazlemere orangery so welcoming.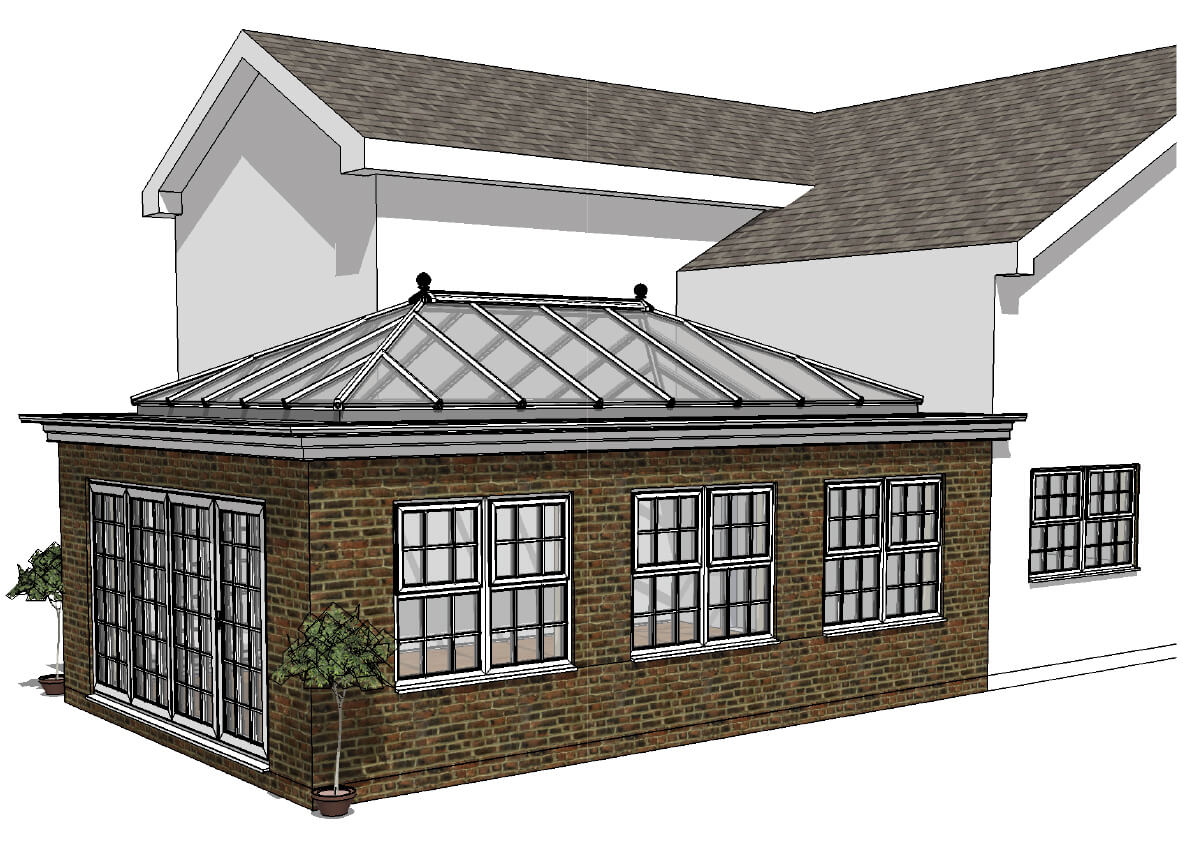 Brick Pillars
Incorporating brick pillars alongside large windows and feature doors to create a perfectly coordinated addition to your existing home.
Security
We offer a full range of high-security locking systems and accessories to ensure that your home will be protected from the threat of break-ins.
Glass
High performance, solar control glass offers excellent energy efficiency. With an ultra-clear outer pane, and a super soft coat inner pane as standard.
GET THE LOOK YOU WANT
Do you want your orangery to reflect your home's image or enhance your garden space? We can help you to answer this question and then provide exactly the right solution.
Your orangery in one of many hundreds of colours and finishes…
The frames of the roof, windows and doors of your orangery can come in any number of stylish coloured UPVC and aluminium finishes. The frame and roof style you opt for will to some extent determine the colour options that you will be able to choose from, but you will not find yourself short of options as there are traditional and modern shades available, together with a selection of woodgrain effect finishes.
All our powder coated aluminium finishes are of the highest quality, and are fade resistant...
The colour found on contemporary Aluminium is powder coated finish that is very hard wearing and will not fade. Powder coated aluminium can come in gloss, matt, or stain finishes to give it that natural feel and look. Powder coated finishes are available in different thicknesses, even a "marine finish" for properties that are near the English coastline.
Select a colour that will complement the look of your orangery…
Choose from a varied palette of striking colours for your orangery. Your chosen colour will need to reflect the roof styling and frame, but you will still have the freedom to choose your preferred colour from a variety of options, from the classic to the contemporary.
An orangery is a place you should enjoy in total comfort...
There are four styles of glass glazed roof: Classic Roof, Cornice Roof, Lantern Roof and Tiled Roof. The straight forwardness of a classic orangery roof is one of its most appealing attributes, as is its ability to facilitate a large expanse of glass. Because of its minimalism, it can be applied to varied shaped and sized orangeries even if it happens to be a complex or bespoke design.
The presence of one or more lantern roofs, also known as atrium roofs, was a regular feature of the orangeries that existed in previous centuries. However, nowadays they look significantly different to how they did in the past. Thanks to modern technology and innovation, the performance of lantern roofs has advanced rapidly in recent years and they offer so much more than their predecessors. They sit comfortably on top of an orangery and deliver spectacular views of the world above.